Bike Movers and Packers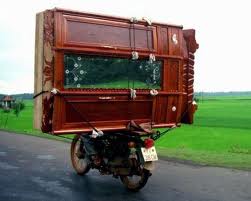 Tips on finding Bike Movers
Moving Motorcycles or vehicles bring a lot of stress for many people. The entire process of packing, transporting, and unloading should carefully be watched over by the owner. Anything can happen during a move and the damages and loss of belongings can happen.
Make sure the bike is clean and not leaking oil
Take off any items that are loose or delicate
Check the bike over and make sure tyre pressure and breaks
In finding the right movers, you need to have several options to consider. You want that number to be many enough so you have a lot to choose from but at the same time not too many so you won't be overwhelmed. You can start by picking at least 5 companies that you can have contact with. These companies should be within the area you are living in. Contact them through phone or email so you can discuss the terms and conditions of their services.
As a final thought, make sure that the bike movers and packers you will get provides insurance for any damages or loss of parts. If an accident occurs, they have to be able to cover the necessary expenses. Discuss already in the likelihood that something does happen so that both parties will be prepared. You'll be able to choose the right company after thinking over these tips.